San Diego Lemon Law Attorneys. Your local source for legal representation under the California lemon law for cars, trucks, RVís, SUVís, vans, crossovers, and hybrids.
In considering pursuing a claim/case under the California lemon law, consumers first need to know these important facts:
The vehicle must be covered by a limited warranty.


The automobile manufacturer is responsible to pay the fees and costs that the consumerís attorney bills to the automobile manufacturer.


The vehicle must have had an unreasonable number of documented warranty repair attempts for the same issue/defect.


The vehicle must have the warranty repairs done at the authorized retailer for that brand of vehicle that was purchased/leased.


The vehicle must be part of a group of less than 5 of any type of vehicle registered to a business, or individual registrants.


The vehicleís defects must substantially impair the use or safety of the vehicle.


The warranty repairs are performed at authorized dealerships in the State of California. (Only exception is Active Military personnel)


The vehicle must be purchased in, and registered in California.


Vehicleís that are purchased outside of California must have transportation to California included in the sale price/sales, then registered in California to qualify under California lemon law. Only exception is Active Military personnel.


The vehicle must have a minimum of 2 documented repair attempts under warranty if the defect is "likely to result in serious injury or death".


If a vehicle is purchased used, and still has factory warranty coverage, it can qualify for California lemon law.


If a vehicle is purchased from an authorized dealer as a "Certified Pre-Owned", the warranty repairs done under this CPO factory warranty are treated the same under California lemon law as a new vehicle.


In many lemon law cases, though the lemon law statute calls for a buyback (repurchase of the vehicle), the San Diego lemon law attorney can often negotiate a "cash and keep" settlement, if thatís what the consumer desires, so as to receive thousands of dollars in cash payment, while retaining their vehicle.


Automobile manufacturers have no duty to provide or pay for loaner/rental vehicles. If they do, itís a gift, not a entitlement.


The California lemon law has a provision wherein if the vehicle, under warranty, spends a documented 30+ days continuous in the shop for reason of unavailability of warranty repair parts, this can make it a "lemon" under the California lemon law.


A "repair attempts" (warranty repair visit) does not have to yield a repair to be legally considered a "repair attempt". The consumer must however be responsible to get a Repair Order written, state their complaint, and allow the warrantor an opportunity of diagnose/effect repairs. The consumer must have this documentation for proof of repair attempts to provide to the San Diego lemon law attorney.


The vehicle, in meeting the California lemon law statute, is returned to the manufacturer (via the car dealership), and a refund is made of all the monies the consumer has paid out/invested in the loan/lease experience with the vehicle. If there is a loan or lease in place, the automobile manufacturer is required to pay off the balance (less late fees or other imposed non-payment fees)
Residents of San Diego County, which includes cities such as Poway, Escondido, Rancho Bernardo, Scripps Ranch, La Mesa, Carlsbad, Oceanside, Vista, Fallbrook, Mira Mesa, Julian, Lakeside, Mission Valley, La Jolla, and many more, are invited to visit or call our offices located in Rancho Bernardo, just off the I-15 freeway at the Rancho Bernardo Road exit. A map is provided below.
In our 23 years of operation, we have settled over 12,000 California lemon law cases for our clients. Our combination of experience and personalized service make our law firm uniquely qualified for residents of San Diego County. We also serve Brawley, El Centro, and many other desert/inland valley San Diego cities.
If you live outside of San Diego County, our law firm has offices in key cities in California, and we serve all residents of California with our legal services.†
We invite you to contact us today to find out what your legal rights, entitlement, and options are with your defective vehicle. No one should have to put up with repeated warranty repairs.
Law Offices of William R. McGee
San Diego Lemon Law Attorneys
16855 West Bernardo Drive
Third floor. Suite 380
San Diego, California. 92127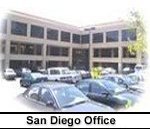 Click here for map...
SE HABLA ESPANOL
LA OFICINA LEGAL MAS GRANDE
DE CALIFORNIA DE LEY DE LIMON
1-877-355-4666 1-877-EL-LIMON